Imagine…! There a balloon flies through the air of 30 meters high and 20 meters wide with your company logo on it. How would you like that?
Since 1984 we fly with branded balloons in the Netherlands and since 2012 we fly with the 10-12 passenger Zemen Bank balloon and the 2-5 passenger (still unbranded) balloon.
Some of our sponsors in the Netherlands are our client for over 25 years and we fly with their 5th ballloon (balloons last 500-600 hours / 5-6 years of intensive flying).
A branded balloon is a very visible and high impact advertising medium. Canadian research from 2001 has shown that the brand the brand recall of balloon promotion is about 90% in comparison to 30% of outdoor billboards. Also the impact of balloon promotion is up to 20 times higher than other forms of outdoor promotion. Just realise that many people on the ground make pictures of the balloon and therefore of your promotion.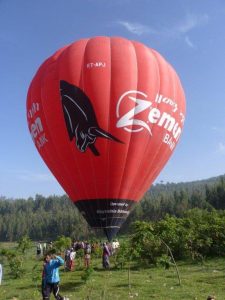 Also in terms of costs balloon promotion is very interesting compared to other outdoor media. The fabric of the balloon has a lifespan of about 600 hours (600 flights) with which depreciation costs per flight (based on investment in a new balloon of about USD 80.000) areabout USD 130 per flight.
Abyssinia Ballooning guarantees you a minimum of 30 flights per year (where we fly with our passengers) but if the sponsor also uses the balloon for corporate balloon flights and product sweepstakes (like most of our sponsors do) this number could go up to 50-100 flights per year.
Some reasons why you should invest in a branded hot air balloon:
Unique method of outdoor advertising (people even make pictures of a balloon and therefore your advertisement / brand)
Very visible method of advertising (moving billboard in the skies of approx. 25 meters high and 15 meters wide)
Great incentive (i.e. discount program) for clients (f.e. sweepstake) or as reward for employees to increase work satisfaction
Great incentive for top clients (certain minimum order volume)
Gain free publicity (radio, TV, internet like Zemen balloon also had)
Improve public opinion: balloon is perceived as something new and trendy and a friendly way of advertising
Approximate investment branded passenger balloon
Fully branded hot air balloon, completely customized, 8 passengers
Investment complete balloon about € 65.000 to € 75.000 for advertising period of 5-10 years
We include 25 tickets with value of ETB 3.500 per ticket per year
Ownership with Abyssinia Ballooning because we have air operator certificate but contract that balloon goes to client if Abyssinia Ballooning cannot fulfill contract
Client gets a minimum visibility of 50 flights/exposures per year
More flights (exposures) if client uses balloon as incentive for clients (passenger flights), around ETB 3300 to ETB 3750 per passenger. plus travel cost outside Addis area.
Take off 10 KM West of Addis (Menegesha, over Addis not allowed by Civil Aviation Authority), Ziway, Langano, Hawassa and Lalibela and other locations on request (Harar, Aksum, etc.)
Only early morning flights (06.00 – 07.30 AM) because of turbulence
Delivery time about 4 months
We are happy to visit you and disccuss why a branded balloon is fantastic for your company. Please fill in the form below for a price quote. After we send you our quote we look forward to meet you and discuss.