Team Abyssinia Ballooning PLC
Bram van Loosbroek, General Manager and Chief Pilot
Bram van Loosbroek is the founder of Abyssinia Ballooning. He is our general manager and chief pilot and has 22 years of experience as a commercial balloon pilot and manager of a hot air balloon company. Bram is mostly the pilot of our balloon flights and when he doesn't make the flights he makes sure that the best and safest pilots from all over the world to fly for Abyssinia Ballooning. Bram is in the process of developing a balloon training schedule together with the Civil Aviation Ethiopia to train local Ethiopian Ethiopian balloon pilots and fly our balloons within a few years. Bram has logged over 2000 hours of balloon flights hours and loves to entertain passengers and to introduce them into the magical world of ballooning. You can contact Bram directly on 00251-931-224021 or email her on bram@abyssiniaballooning.com.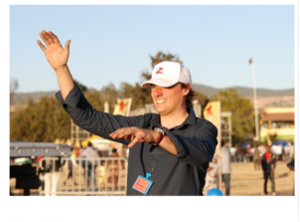 Tamerat Agegnehu, Operations Manager and Truck Driver

Tamerat is the best truck driver in Addis Ababa. With great care and a good eye for safety he manoeuvres the big 4×4 balloon truck through the most complex traffic and off road situations. Tamerat also works as our operations manager in charge of balloon material preparatrions. Tamerat is a perfectionist when it comes to ballooning. He always comes prepared and double checks what needs to be done. Perfect characteristics for somebody who is in aviation. Tamerat, thankyou for being with us.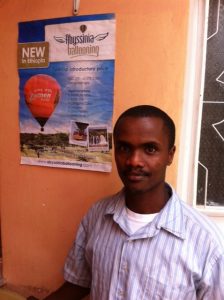 Sileshi Geletu, ground team manager
Sileshi Geletu is our ground team manager who manages the ground team during balloon flights. He is a fun and hard working man who knows how to motivate people. With great pleasure and dedication he works with the balloon the passengers and the crowd that gathers after landings. We are happy that Sileshi strenghtens our team. In the picture below Sileshi is on the right side.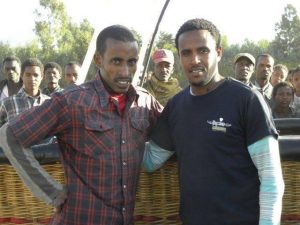 Yeshi Fikre, office manager and deputy general manager
Yeshi is responsible for our office management and servicing and maintaining relations with tour operators, businesses and private groups. She is hard worker and fast learner and is very happy to service clients. In absence of Bram she works as deputy general manager of Abyssinia Ballooning. Yeshi is a positive, ambitious and friendly person and we are very proud to have her in our team. You can call Yeshi directly on 00251-926-845086 or send her an e-mail on yeshi@abyssiniaballooning.com.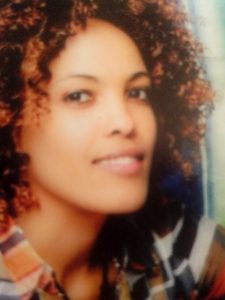 Miriam Kindwas, account manager
Miriam Kindwas is one of our account managers. She is responsible for attracting new clients and maintaining relationships with our exisiting clients and relations like tour operators, businesses, hotels, restaurants and government and non-governmental organisations. Miriam is a positive, big fun and energetic young lady that is committed to making Abyssinia Ballooning into a succesful and healthy company. She is ready to inform you on all the ins and outs of our balloon services. You can contact Miriam directly on 00251-910-990748 or email her on miriam@abyssiniaballooning.com.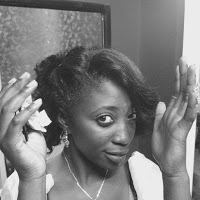 Betty Sileshi, Account Manager
Bruk Geletu, Ground Team Member
Tilahun, Ground Team Member and Driver
Alem, Compound Manager
Mulugeta, Agent Abyssinia Ballooning in Lalibela