We offer 2 types of balloon flights. These are combined balloon flights and private balloon flights.
Combined balloon flights
Combined balloon flights are flights where your group of a few people are combined with other passengers. You will meet new people in the balloon with whom you will share your unforgettable sunrise balloon experience. You will fly in the Zemen Bank Balloon that carries 10-12 passengers and is divided in 5 compartments (pilot compartment, two 2-passenger compartments and two 3-4 passenger compartments). Even though your flight is combined with other passengers you will still have the feeling of privacy in intimacy with your group. Combined flights are suitable for bookings of 1-9 people.
Click here for an overview and pricing of our scheduled combined flights throughout Ethiopia.
Private balloon flights
A private balloon flight means that you come to fly with your own group of (visiting) friends, (visiting) family members, colleagues or other relations. We operate two balloons for our private (chartered) balloon flights:
The 2-5 passenger unbranded balloon especially suitable for weddings (proposals) or family outings
The 10-12 passenger Zemen Bank Balloon especially suitable for friends, family or company outings
A private balloon flight gives you the feeling of exclusivity and intimacy with your own group of people.
Click here for the pricing and package of our private balloon flights.
The package of both the combined and private balloon flights include:
Pickup by our minivan;
A wonderful balloon flight with an average of 1 hour;
Refreshment during the balloon flight;
Traditional champaign ceremony after the flight;
Full breakfast after the flight;
A personal commemorative certicate;
A professional and enthusiastic guidance;
Transport back to the pickup place;
Full passenger insurance (comparable to insurance of airliners);
Qualified and licensed pilots and crew;
Your tickets can be freely transferred to other people;
Reservation and administration costs;
VAT;
A lot of fun and excitement.
For more information and bookings of our combined and private flights please call 00251-926-845086 or email info@abyssiniaballooning.com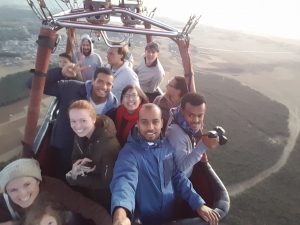 Note: When a passenger's weight varies substantially from the average weight of passengers a surcharge of 10-20% can apply.